Memory Intervention after Traumatic Brain Injury: Results of a Systematic Review
Speaker: Natalie V. Covington, PhD, CCC-SLP
Live Broadcast: Wednesday, June 24, 2020 at 12:00 pm (Central) 
For those unable to attend the live broadcast, an archived webinar will be made available shortly thereafter.
Description:
Memory impairments are among the most common and enduring cognitive complaints following traumatic brain injury (TBI).  This webinar describes findings from a systematic review of memory interventions for individuals with TBI, reviewing findings from the latest treatment research.  The presentation concludes with discussion of how evidence‐based memory interventions can be implemented in real-world clinical settings.
Learner outcomes:
By the end of the presentation, participants will be able to:
Describe evidence‐based memory interventions appropriate for patients with traumatic brain injury.
Discuss methods for applying evidence‐based memory interventions to clinical practice.
Discuss multiple memory system theory as it relates to patients with traumatic brain injury.
Speaker:
Natalie V. Covington, PhD, CCC-SLP, is a Postdoctoral Fellow in Dr. Melissa Duff's Communication & Memory Lab.  Beginning in August, Dr. Covington will be an Assistant Professor in Speech-Language-Hearing Sciences at the University of Minnesota.  Dr. Covington's research seeks to understand and account for heterogeneity in cognitive recovery following traumatic brain injury, with a specific focus on contributions of learning and memory to successful rehabilitation outcomes.  Dr. Covington also has a particular interest in improving measurement and research practices, so that research findings are replicable, generalizable, and clinically applicable.
Cost:
ANCDS Members: No charge!
Non-Members: $50
Speaker Disclosures:
Financial: Dr. Covington is an employee of Vanderbilt University Medical Center with salary support from the ASHFoundation.  She is a salaried employee of the University of Minnesota starting in August 2020.
Non-Financial: Dr. Covington has no non-financial disclosures.
ASHA CEUs:
This course is offered for 0.1 ASHA CEUs (Intermediate level, Professional area)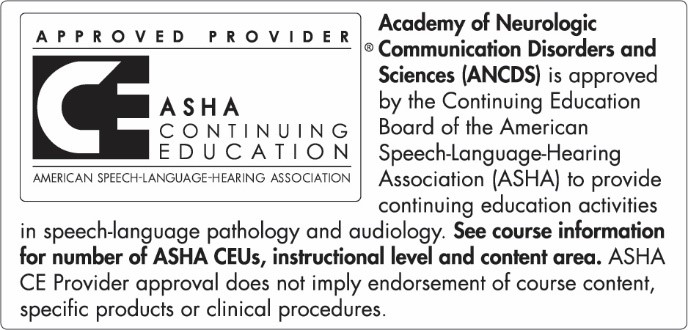 Live Webinar Attendees: If you would like to receive credit for attending, please complete and submit the program evaluation form after the webinar by July 1, 2020.
Please note: CEU information is submitted to ASHA on a quarterly basis. Therefore, it may take several months for your course to show up on your ASHA transcript. If it has been more than 3 months since you took a course and you have not seen your course posted, please contact [email protected].