Return to Work and Workplace Interventions for Persons with Traumatic Brain Injury
Live Broadcast: Friday, September 14, 2018 at 1:00 pm (EST).
Description:
When persons with traumatic brain injury (TBI) return to work, maintaining stable employment is associated with their communication competencies.  Dr. Meulenbroek's research focuses on the intersection of work and social communication disorders, specifically in persons with TBI.  He uses sociolinguistic approaches to analyze talk at work and develop new ways to assess and treat persons with TBI whose therapeutic aims include return to stable employment.
Learner outcomes:
By the end of the presentation, participants will be able to:
Describe practical assessment tools and non-standardized approaches
Develop measurable, patient-centered goals for cognitive-communication disorders impacting work related activities

Describe practical means to track progress towards goals in work related cognitive communication skills
Speaker:
Peter Meulenbroek, Ph.D., is Assistant Professor in the Division of Communication Sciences and Disorders at the University of Kentucky College of Health Sciences.  His research examines the intersection between traumatic brain injury (TBI), communication ability, and stable employment.
People with TBI often have difficulties with returning to work.  Work return problems are largely related to cognitive problems with attention, memory, and verbal reasoning abilities.  When someone with TBI returns to work, employment stability is better predicted by social communication ability.  Dr. Meulenbroek's work uses sociolinguistic description and theory about talk at work to develop new ways to assess and treat persons with TBI who hope to return to stable employment. 
Cost:
ANCDS Members: No charge!
Non-Members: $50
Speaker Disclosures:
Financial: Dr. Meulenbroek receives salary from the University of Kentucky. 
Non-Financial: Dr. Meulenbroek is a member of ANCDS and serves as chair of the writing committee for TBI evidence-base. He is a member of ASHA's Special Interest Group 2 and serves as associate editor for ASHA Perspectives of SIG 2.
ASHA CEUs:
This course is offered for 0.1 ASHA CEUs (Intermediate level, Professional area)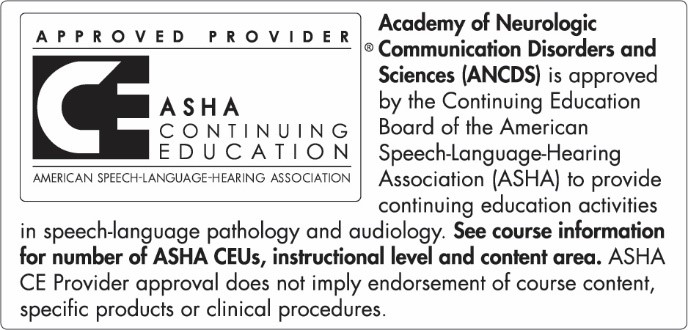 If you would like to receive credits for viewing the webinar recording, you must complete the associated quiz.
CEU information is submitted to ASHA on a quarterly basis. Therefore, it may take several months for your course to show up on your ASHA transcript. If it has been more than 3 months since you took a course and you have not seen your course posted, please contact [email protected].