Striving for Independence: A Coaching Model of Support for Adults with TBI
Speaker: Mary Kennedy, 
PhD, BC-ANCDS
Live Broadcast: Monday, June 24, 2019 at 12:00 pm (Central) 
Click here to order the archived webinar.
Recording Expires: December 31, 2019
This course provides an overview of the evidence supporting coaching instruction paired with the use of motivational interviewing when working with adults after traumatic brain injury.  This webinar is appropriate for SLPs and allied health professionals of intermediate levels of experience with acquired neurological disorders, as well as graduate students with theoretical coursework and some direct clinical experience.
Learner outcomes:
By the end of the presentation, participants will be able to:
Articulate the evidence behind coaching and the outcomes that can be expected.
Distinguish between a coaching approach and more traditional cognitive rehabilitation approaches.
Identify the components of coaching, including instructional methods and use of motivational interviewing. 
Speaker:
Mary R.T. Kennedy, Ph.D., is Professor and Chair, Communication Sciences and Disorders at Chapman University, Orange, CA.  She is an ASHA Fellow and is a recipient of Honors from the Academy of Neurologic Communication Sciences and Disorders.  She has years of clinical and research experience working with individuals with cognitive impairments after brain injury, such as metacognition, self-regulation, and executive functions.  Additionally, she co-authored numerous publications on evidence-based practice in cognitive rehabilitation.  Her current work involves identifying best practices for supporting college students with executive function problems, especially those with brain injury, including mild TBI or concussion.  She is author of Coaching College Students with Executive Function Problems (2017), Guilford Publishing.
Cost:
ANCDS Members: No charge!
Non-Members: $50
Speaker Disclosures:
Financial: Dr. Kennedy is the author of and receives royalties for Coaching College Students with Executive Function Problems (2017), Guilford Publishing. 
Non-Financial: Dr. Kennedy is a member of the ANCDS and has held several positions within the organization, including Past President.  She was also recipient of the ANCDS Honors award in 2014.
ASHA CEUs:
This course is offered for 0.1 ASHA CEUs (Intermediate level, Professional area)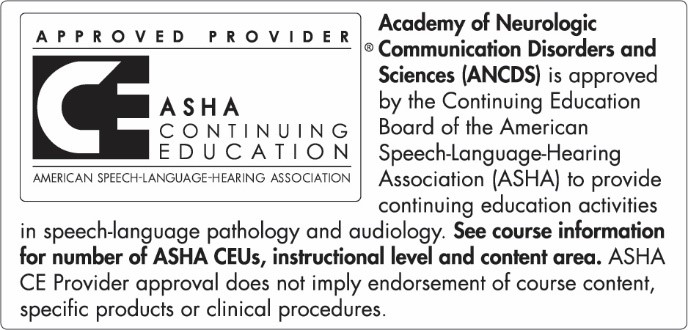 Archived Webinar Viewers: If you would like to receive credit for viewing the webinar recording, you must follow the instructions on the webinar viewing page to complete the ASHA CEU Participant Form and submit the program evaluation form.  Those who received credit for attending the live webinar are NOT eligible to earn additional credit via the webinar recording.
Please note: CEU information is submitted to ASHA on a quarterly basis. Therefore, it may take several months for your course to show up on your ASHA transcript. If it has been more than 3 months since you took a course and you have not seen your course posted, please contact [email protected].