Practical Verb Network Strengthening Treatment (VNeST) Guidelines for Aphasia
Speaker: Lisa Edmonds, PhD, CCC-SLP
Recording Available: Tuesday, May 26, 2020
Recording Expires: Thursday, December 31, 2020 
Description:
This talk includes practical and functional information for clinical implementation of Verb Network Strengthening Treatment (VNeST), including a review of treatment steps with examples as well as answers to frequently asked questions (FAQs).  Additionally, a variety of sample cases are presented to illustrate and provide guidance for choosing treatment verbs and materials, incorporating writing and computers into treatment, adapting VNeST to languages other than English, administering VNeST via teletherapy, and selecting and analyzing assessment/outcome measures.  An emphasis on clinical decision making and implementation for a variety of aphasia presentations is provided throughout.
Learner outcomes:
By the end of the presentation, participants will be able to:
Describe the steps of Verb Network Strengthening Treatment (VNeST) with a clear rationale for each.
Select appropriate treatment materials for use with VNeST.
Choose a range of outcome measures to evaluate potential changes in language abilities after implementation of VNeST.
Speaker:
Lisa Edmonds, PhD, CCC-SLP, is an Associate Professor and Director of the Aphasia Rehabilitation and Bilingualism Research Lab at Teachers College, Columbia University.  Dr. Edmonds conducts clinical research in aphasia, including the development and evaluation of novel treatment paradigms (e.g., VNeST) and outcome measures for monolingual and bilingual speakers with aphasia. The lab also investigates the integration of computers and teletherapy into aphasia treatment.
Cost:
ANCDS Members: No charge!
Non-Members: $50
Speaker Disclosures:
Financial: Dr. Edmonds is a salaried professor at Columbia University.
Non-Financial: Dr. Edmonds has no non-financial disclosures.
ASHA CEUs:
This course is offered for 0.1 ASHA CEUs (Intermediate level, Professional area)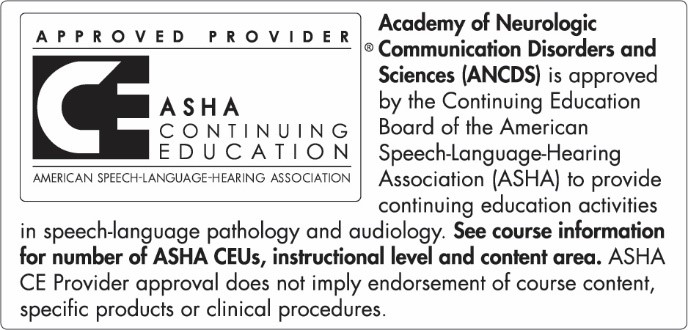 If you would like to receive ASHA CEUs and/or a certificate of attendance for viewing the webinar recording, please complete and submit the program evaluation form by December 31, 2020.
NOTE: Those who received credits for attending the live webinar session are NOT eligible to earn additional credit for the recorded webinar.
Please note: CEU information is submitted to ASHA on a quarterly basis. Therefore, it may take several months for your course to show up on your ASHA transcript. If it has been more than 3 months since you took a course and you have not seen your course posted, please contact us.