Supporting Reading Comprehension for People with Aphasia
Speaker: Sarah E. Wallace, PhD, CCC-SLP
Recording Available: Wednesday, October 21, 2020
Recording Expires: Thursday, December 31, 2020
Description:
People with aphasia experience chronic reading comprehension impairments that affect their participation in daily activities and access to important information.  Potential strategies to support comprehension include those that involve technology such as text-to-speech systems and those that require modification of written text such as aphasia-friendly formatting.  The aim of this webinar is to discuss current research related to these two strategies.
Learner outcomes:
By the end of the presentation, participants will be able to:
Describe the current research related to features of text-to-speech systems.
Describe the preferences of people with aphasia related to reading comprehension supports.
Speaker:
Sarah E. Wallace, PhD, CCC-SLP is an Associate Professor and Program Director for the Adult Language and Cognition clinic in the Speech-Language Pathology Department at Duquesne University in Pittsburgh, Pennsylvania.  Dr. Wallace also directs the Communication and Cognition Lab.  Dr. Wallace is a certified speech-language pathologist with clinical experience providing services to individuals with acquired communication disorders.
Cost:
ANCDS Members: No charge!
Non-Members: $50
Speaker Disclosures:
Financial: Research reported in the presentation was supported by the National Institute on Deafness and other Communication Disorders of the National Institutes of Health under award number 1R15DC015579.  The content is solely the responsibility of the authors and does not necessarily represent the view of the National Institutes of Health.  Funding provided by Miami University Office for the Advancement of Research and Scholarship.  Funding provided by the Duquesne University Faculty Development Fund.
Non-Financial: Dr. Wallace has no non-financial disclosures.
ASHA CEUs:
This course is offered for 0.1 ASHA CEUs (Intermediate level, Professional area)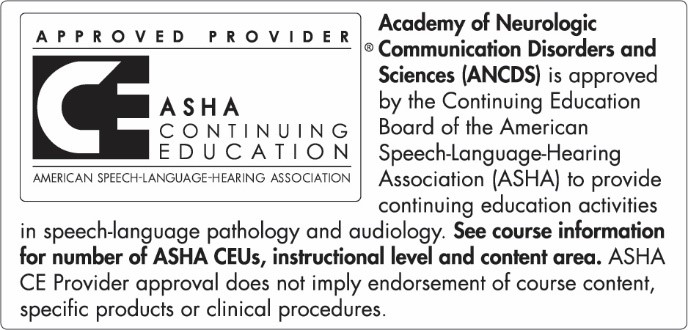 If you would like to receive ASHA CEUs and/or a certificate of attendance for viewing the webinar recording, please complete and submit the program evaluation form (found on the recording webpage) by December 31, 2020.

NOTE: Those who received credits for attending the live webinar session are NOT eligible to earn additional credit for the recorded webinar.
Please note: CEU information is submitted to ASHA on a quarterly basis. Therefore, it may take a few months for your course to show up on your ASHA transcript. All CEU requested submitted by December 31, 2020, at 11:59 pm (CST) will be submitted for credit for the 2020 calendar year on/by January 7, 2021. If you have not seen your course posted on your transcript by January 31, 2020, please contact Kelly Crouch at [email protected]. If you require a certificate of completion sooner than early January 2021, please contact Kelly for this as well.